The Abduction of Bacon at Dawn,
the Chronicles of a Brave Rooster / PRESS KIT
Release date: June 25, 2015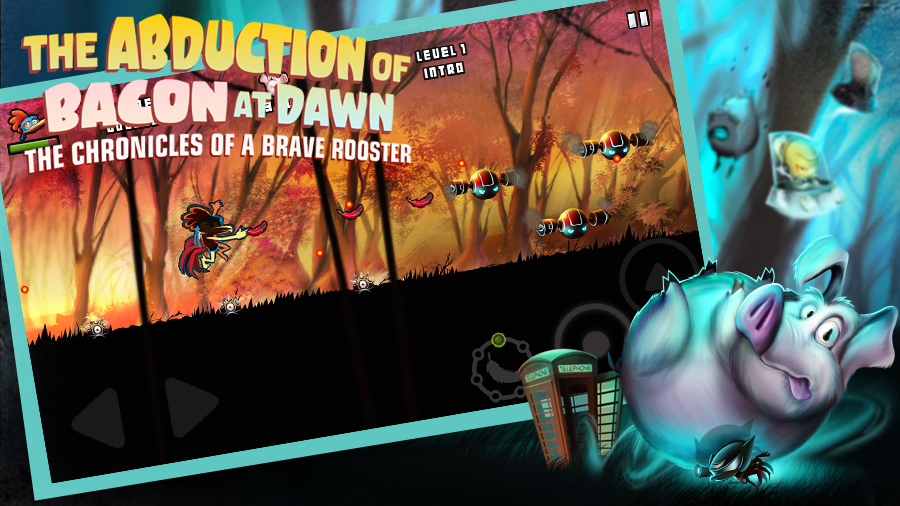 The Abduction of Bacon at Dawn, the Chronicles of a Brave Rooster is an action and humor-packed platform shooting game.

Story
The Earth is being invaded by hungry aliens that are abducting our pigs… But, why pigs?! Soon after the invasion began, the scientific community made a shocking discovery: eating bacon is vital to our health and should be consumed in large quantities. That's why the aliens are here! Will we run out of pigs? Can we survive without bacon?? Is this the end of human race???
Among all this mayhem, a unique hero emerges… the only one that can fight, or at least see, the aliens at dawn! Its name is Brave Rooster!

Key Features

Fight armies of evil aliens, robots, and UFOs in challenging humor-packed levels!
Jump, shoot and stomp your way to the final boss!
Get ridiculously-awesome weapons and armour upgrades as you advance.
Save the pigs and ensure that our bacon stays on Earth!
Follow an epic adventure, full of hilarious inventions by some of the greatest minds on Earth...
Replay past levels with your new weapons to complete all the challenges.
Game Center integration: Compete to become the top rooster in the world in each level.
Metal support for best graphics performance.

Videos